Decorating a kitchen island countertop is not as difficult as it might seem. With a little time and effort, you can make your countertop look just as beautiful as the rest of your home.
Stacking books
If you have a kitchen island, you can display books in a variety of ways. For example, you can use stacked books, or even a cookbook caddy.
You can also display books in a more streamlined manner, and the best way to do this is with an open shelf. There are several islands out there that offer this option.
You can arrange the books by color. This can be a nice touch if you want to make a colorful statement.
You can also use this space to hold a wide variety of small appliances. A large shelf can be installed underneath your island, or you can put a cookbook caddy on top of the counter.
Book stacking has become a full-fledged design trend. This can be a nice alternative to a gallery wall. Books can be grouped by size, color, and style. It's a good idea to periodically prune the collection to free up some space.
Decorative bowls and vases
Decorating your kitchen island countertop is a great way to make your space look and feel more inviting. You can use different decorative bowls and vases to create an eye-catching focal point for your countertop. However, don't go overboard with the amount of decoration you put on the area. There's no need to overwhelm your counter space, and you can use simple pieces to achieve a cohesive look.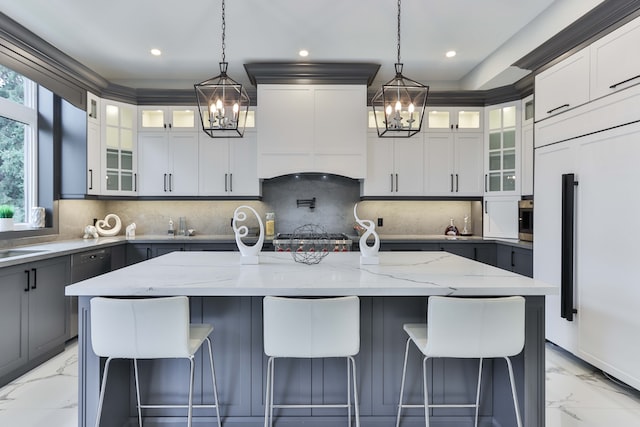 Flower vases are a classic way to decorate your countertop. You can choose to display flowers in a traditional vase or use a modern glass piece. Flowers are a nice way to add color to your kitchen, especially in spring. If you don't want to maintain a floral centerpiece, try using a dried bouquet.
Fruit bowls are another decorative option. These bowls are great for minimalist design ideas. During the summer, add a few fresh fruits to the bowl. In winter, add a few pinecones, holly branches, or chestnuts.
Decorative utensils
Decorative utensils can be used to add color and design to your kitchen island countertop. You can find many different styles of utensils and can select items that will suit your style and needs.
For a simple approach to decorating your countertop, choose a few items that are functional. These can include a pot or a dish stand, a cutting board, and a flower vase. Your choices may also depend on the size and material of your countertop. If your countertop is made of marble or a more solid material, adding texture is a smart idea.
Keeping your counter space clear of too many utensils and appliances can help you avoid a cluttered appearance. However, it is important to group items that are similar in style and theme.
Potted herbs
One of the best ways to add fresh herbs to your kitchen is to grow your own. These plants are surprisingly productive and can give you a taste of nature, right in your own home.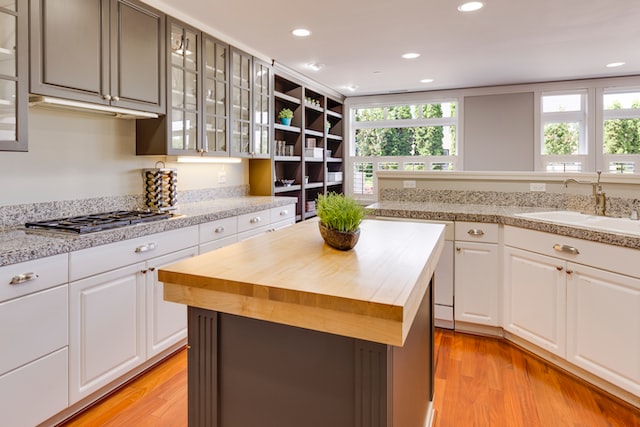 If you have a sunny window, you can grow an herb garden that can be placed on your counter. They can add great flavor to your cooking and they can be used as decorations, too. But you will want to choose the right plants.
Some culinary herbs require more sun than others. Basil is ideal for sunny decks, windowsills and terraces. It can be harvested from spring through fall.
Another great option is to use a three-pot hanging planter. This planter can be attached to the ceiling or a wall. You can then adjust the height to accommodate the plants.
Decorative trays
Using decorative trays to decorate a kitchen island countertop can give your space a stylish look while freeing up precious counter space. Trays also make it easier to move decorations around without having to clear up clutter.
While you're decorating your kitchen island, experiment with textures, colors, and patterns. If you have a dark countertop, consider a large, colorful centerpiece. A vase of flowers is a classic way to add color.
The trick to displaying the kitchen's finest objects is to create a focal point. An eye-catching centerpiece can be as simple as a large plant or a unique statue.
One of the best ways to accomplish this is to group three items. For example, a tall vase, a pair of books, and a collection of cooking essentials can be a great centerpiece.
Photo by Jason Briscoe on Unsplash